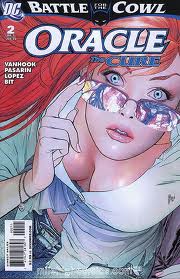 Barbara Gordon est assistante-libraire à la librairie de Gotham. Elle est la fille ou la nièce de James Gordon, suivant les versions. Dans le film Batman & Robin, elle est la nièce d'Alfred.
Après Crisis on Infinite Earths, Barbara perd ses parents dans un accident de voiture. Roger, son père, conduit ivre et emporte Thelma, son épouse dans l'accident. Barbara est adoptée par James Gordon.
Elle désire devenir agent du FBI ou policière pour la ville de Gotham, mais elle ne correspond pas aux critères de recrutements physiques. James Gordon s'oppose vivement à cette carrière sous prétexte qu'un policier dans la famille est suffisant. Furieuse de ce refus, Barbara décide, pour se venger, de se rendre à un bal masqué déguisée en Batgirl. Elle n'a pas le temps de révéler sa véritable identité car lors de ce bal, Killer Moth tente d'enlever Bruce Wayne. Le plan du vilain échoue à cause de l'intervention de Barbara. Cet exploit attire l'attention de Batman qui accepte que Batgirl fasse partie de son groupe.
Dans la version originale du comics, Barbara révèle son identité secrète à son père, après dix ans de services. Elle rentre à la Chambre des représentants des États-Unis et abandonne son identité de Batgirl.
Dans Batman: The Killing Joke, la carrière de Batgirl se termina à cause du Joker qui lui brise la colonne vertébrale1. Elle devient paraplégique et est condamnée à vivre dans une chaise roulante.
À la recherche d'une nouvelle occupation, Barbara utilise ses connaissances d'Internet et un équipement fourni par la Fondation Wayne pour s'investir dans le piratage et l'exploitation des bases de données. C'est en essayant de neutraliser Interface alias Ashley M. Powell, une méta-humaine criminelle pouvant interagir directement avec les ordinateurs, qu'elle devint Oracle. Après un échec et des menaces de mort, elle prend des cours d'auto-défense auprès de Richard Dragon, adopte le pseudonyme d'Oracle et réussit enfin à neutraliser Interface2.
Avec ses connaissances d'ancienne responsable d'une grande bibliothèque, sa maîtrise des nouvelles technologies, et sa grande intelligence, Oracle est par la suite devenue l'agent de renseignement de la plupart des héros de l'univers DC, (tout d'abord l'Escadron Suicide) et de Batman en particulier. Elle est ainsi devenue membre de la Justice League of America.
Plus tard, elle crée l'équipe des Birds of Prey avec Black Canary et Huntress. Elle prend aussi sous son aile la nouvelle Batgirl, Cassandra Cain.
Barbara est devenue un recours invaluable pour Batman et ses alliés, et aussi pour un grand nombre des super-héros, dont la plupart ignorent son identité. Black Canary est devenue, au fil des années, sa meilleure amie dans la communauté des super-héros. Son amitié avec Dick Grayson, le premier Robin est devenue, récemment, plus intime.